JUMP TO:   ACTIONS    WHERE ARE WE NOW    DOCUMENTS & REPORTS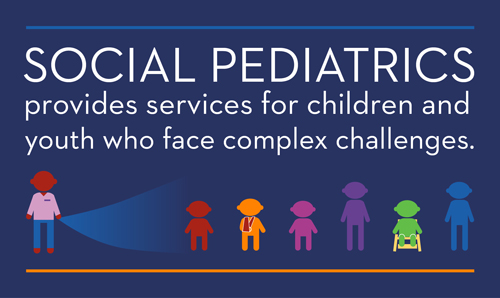 Background/ Why Is This Important?
Social pediatrics is an integrated approach to child health care and disease prevention that brings together primary care, specialty pediatrics, communities and public health working together to improve child health outcomes.
Based on this model of care is the Responsive Intersectoral Children's Health, Education, and Research (RICHER) Initiative at BC Children's Hospital (BCCH), which addresses the health needs of vulnerable children and families in Vancouver's inner-city neighbourhoods. 
The RICHER Initiative delivers primary healthcare services and outreach specialist and subspecialist consultation through community clinics, local schools and social services. The RICHER team uses a child/family-centred approach to tailor services to each family's needs and circumstances and help build trusted relationships with care providers.
The RICHER Initiative is the first program of its kind in BC and is recognized nationally and internationally as leading edge social pediatric care. Several research publications outline the efficacy and scalability of the RICHER model.
 
What Actions Have Already Been Taken?
In collaboration with the RICHER team, Child Health BC organized two provincial workshops in 2009 and 2011, bringing together key stakeholders from across the province to learn more about social pediatrics and how this approach may support vulnerable children, youth and families. 
 
Where Are We Now?
Child Health BC is working with the RICHER team to expand the social pediatrics model to other communities across BC.