JUMP TO:  BACKGROUND   ACTIONS   WHERE ARE WE NOW   DOCUMENTS & REPORTS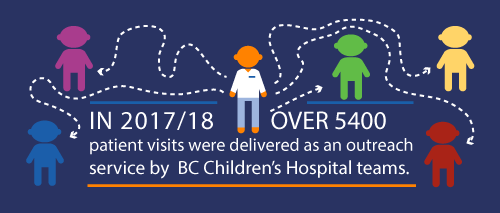 ​
Background/ Why Is This Important?
British Columbia's highest level of pediatric care and expertise is provided by BC Children's Hospital (BCCH), located in Vancouver. For children living outside of Vancouver, a trip to BC Children's Hospital for pediatric specialist or sub specialist care can mean significant travel, cost and disruption for the whole family. 
Outreach clinics bring BC Children's Hospital's specialized expertise and services to BC families in their home communities. Outreach team members may include subspecialty physicians, nurses, physiotherapists, echo sonographers and dieticians in a wide range of clinical areas
 
What Actions Have Already Been Taken?
Planning and coordinating outreach clinics is a key priority of Child Health BC. In addition to enabling BC Children's Hospital to provide leading edge care while optimizing system resources, outreach clinics also build partnerships with community-based health care teams to support children's health on an ongoing basis.  
For the past decade, Child Health BC has supported and strengthened the growth of outreach clinics by championing a Tiers of Service framework to deliver care. In the past two years, BCCH outreach patient visits have increased by more than 30 per cent. This translates to more than 5,400 patient visits every year. 
Between March 2017 and March 2018, a total of 436 sub-specialty outreach clinics were held in locations throughout the province:
 
| Sub-specialty | # of Clinics | Sub-specialty | # of Clinics |
| --- | --- | --- | --- |
| Cardiology | 114 | Surgery - Ophthalmology | 24 |
| Neurology | 67 | Dermatology | 14 |
| Nephrology | 57 | Hematology/Oncology | 11 |
| Endocrinology | 54 | Surgery - ENT | 10 |
| Rheumatology | 39 | Biochemical Diseases | 6 |
| Gastroenterology  | 38 | Surgery - Orthopaedics | 2 |
*Data source-CERNER
Where Are We Going Next?
Child Health BC continues to support and grow pediatric subspecialty outreach across BC. This includes expanding outreach to new communities, as well add adding to the list of clinical programs offering outreach.
Virtual Care, including telehealth, is another transformational strategy for eliminating barriers to access to subspecialty care, and enabling care proximity in children's home or community. Virtual care will enable children to be seen in their homes or communities, seamlessly integrating specialized care into the care plan. These technologies have the potential to decrease wait-times to see sub-specialists, to enhance follow-up care after hospital discharge, and to provide support in schools.