JUMP TO:  TIERS OF SERVICE    SELF ASSESSMENT    DOCUMENTS & REPORTS

20 hospitals in BC have "dedicated pediatric inpatient beds"
Children's medical services are provided by family physicians (FPs), nurse practitioners (NPs), pediatricians and pediatric medical subspecialists, in partnership with nurses, allied health and other members of the health care team. Approximately one third of the medical inpatient care of children happens at BC Children's Hospital — where often the most complex children are seen because of the availability of the many subspecialties of pediatric medicine. The remaining two thirds of those medical inpatient stays occur through BC. 
Throughout BC we have hospitals that have "dedicated pediatric beds", 94% of medical inpatient days occur at one of 20 hospitals in BC.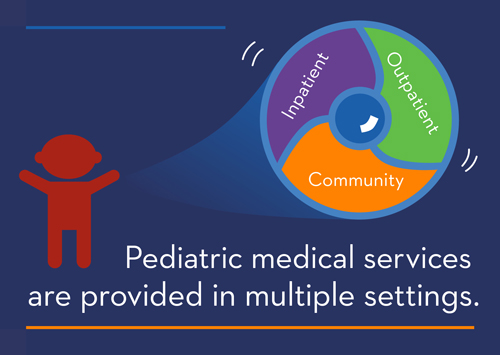 It is very important to note, however, that beds and bed days do not tell the whole story. A tremendous amount of support for children's health from a medical perspective occurs in the community setting and the outpatient setting. 
These three settings — inpatient, outpatient and community — were all considered in the development of the Medicine module.
Tiers of service module for children's medicine
The Tiers of Service module for children's medical services has been completed. A collaborative working group made up of family physicians, pediatricians, a pediatric subspecialty physician, nurses, therapists, infant development experts and others from across BC worked together to create the module from the best data from BC and best evidence from the literature. 
After receiving input from across the province and refinement, the module has been accepted. 
There are three parts to the completed Children's Medical Services module: 
Part I: Setting the stage
Part II: Tiers in Brief for System planning
Part III: Tiers in Full for Service Planning 
To complement the Children's Medical Services module, an in-depth Diabetes Services module, found in the document block below, has also been developed which provides additional responsibilities and requirements related to the care of children with diabetes.
Self-assessment using the Children's Medical tiers module
The provincial self-assessment using the Medicine module is now underway in June 2017. In the meanwhile, please use the posted module when you are considering children's services  planning for children. Feel free to contact us at CHBC for more information!
Check back here or watch the News section of our website for updates regarding  the progress on the Children's Medical Services self-assessment.